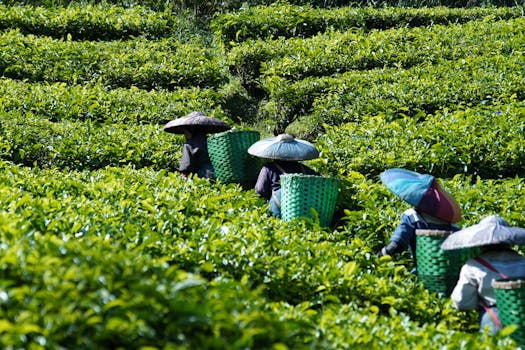 Sencha tea is a popular type of Japanese green tea that has been consumed for centuries for its numerous health benefits and refreshing taste. This tea is made from the leaves of the Camellia sinensis plant, which undergo a specific harvesting and processing method to produce this unique tea. Sencha tea is different from other green teas as it has a distinct taste and aroma. It is known for its vegetal flavor that is both grassy and nutty with a slightly bitter aftertaste. Sencha tea has become a staple drink in Japanese culture and has gained popularity worldwide due to its health-enhancing properties. Consuming sencha tea has been linked to promoting heart health, reducing inflammation, and strengthening the immune system. This tea also contains numerous antioxidants that are beneficial for overall well-being. With its refreshing taste and potential health benefits, sencha tea has become a popular choice for tea lovers around the world. In this article, we will delve into the topic of sencha tea, explore its history, health benefits, and how to prepare and enjoy this Japanese green tea.
What is Sencha Tea?
The History of Sencha Tea
Sencha tea is a type of Japanese green tea that has been enjoyed by tea drinkers for centuries. It originated in Japan during the 18th century and was initially produced using steaming methods similar to those used to make matcha tea. Over time, sencha production techniques evolved, leading to the creation of a unique brewing process that emphasizes the production of a bright green liquor with a light, refreshing flavor.
How is Sencha Tea Made?
Sencha tea is made from leaves that are grown in sunlight until they reach maturity and are then harvested by hand. The leaves are then steamed for about 30 seconds before being rolled into thin needles. Once this process is complete, the leaves are dried and sorted according to their size and quality.
The final product has a bright green color with an aroma that reminds one of freshly cut grass or seaweed.
What Does Sencha Tea Taste Like?
Sencha tea has a unique flavor profile that sets it apart from other types of green teas. It has a slightly sweet taste with hints of umami (savory) flavor notes reminiscent of seaweed or spinach. The overall taste profile can be described as light-bodied and refreshing with no bitter aftertaste.
Health Benefits Of Drinking Sencha Tea
Like most types of green teas, sencha comes packed with antioxidants known as catechins which have been shown to help boost metabolism, reduce inflammation levels in the body while also helping lower cholesterol levels among other health benefits.
Senchas also contain caffeine which makes it an excellent choice for those looking for natural energy boosters without resorting to sugary drinks like sodas or coffee-based beverages like cappuccinos or lattes which can spike insulin levels leaving you feeling more tired than energized later on in your day.
The History and Culture of Sencha Tea
Origins of Sencha Tea
The origins of sencha tea can be traced back to the 18th century in Japan. It is believed that Japanese tea farmers were inspired by Chinese green tea production methods, but developed their own unique style over time. The name "sencha" translates to "roasted tea," which refers to the traditional method of steaming and roasting the leaves.
Sencha Tea Cultivation
Sencha tea is grown in various regions throughout Japan, including Shizuoka, Kyoto, Kagoshima, and more. Each region has its own unique climate and soil conditions that contribute to different flavor profiles for their senchas.
The cultivation process for sencha involves growing the plants in direct sunlight until they reach maturity. The leaves are then harvested by hand and processed immediately to prevent oxidation from occurring.
Traditional Japanese Tea Ceremony
The culture surrounding sencha tea in Japan is rich with tradition and history. One example is the Japanese tea ceremony or chanoyu (literally meaning "hot water for tea"), which dates back hundreds of years.
During a traditional Japanese tea ceremony, guests are invited into a peaceful environment where they can enjoy matcha or other types of green teas such as senchas while engaging in conversation with their host. This ritual often involves several steps including:
Cleansing: Guests cleanse themselves before entering the room
Preparation: Guests watch as the host prepares the utensils used for brewing
Brewing: The host carefully brews each cup with precision
Presentation: Each guest receives a cup presented by the host
Drinking: Guests savor each sip while admiring their surroundings
This ritual embodies many concepts important within Japanese culture such as respect for nature, mindfulness, harmony (wa), purity (sei), tranquility (jaku), simplicity (koko), hospitality (omotenashi).
Health Benefits of Sencha Tea in Japanese Culture
Sencha tea has been revered for its numerous health benefits within Japanese culture for centuries. In Japan, it is believed that drinking sencha can help to promote overall wellbeing and longevity.
Some of the most notable health benefits of sencha tea include:
Antioxidants: Senchas contain high levels of antioxidants which can help to protect against damage caused by free radicals in the body. These antioxidants are known to have anti-aging properties.
Weight Management: The catechins found in senchas may help to boost metabolism and promote weight loss.
Dental Health: The fluoride content in senchas has been shown to promote dental health by preventing tooth decay.
Heart Health: Studies have shown that regular consumption of sencha tea may help reduce LDL cholesterol levels, therefore lowering the risk of heart disease.
The Nutritional and Health Benefits of Sencha Tea
Rich in Antioxidants
Sencha tea is known to contain high levels of antioxidants, which are essential for promoting good health. These antioxidants help to protect the body from free radicals that can cause damage to cells and contribute to the development of chronic diseases.
Studies have shown that sencha tea contains a compound called epigallocatechin gallate (EGCG), which is a potent antioxidant that has been linked with numerous health benefits, including reducing inflammation levels, protecting against cancerous cells and even promoting weight loss.
May Boost Metabolism
Sencha tea is also believed to boost metabolism due to its caffeine content. Caffeine has been shown to increase energy expenditure or calorie burning by 3-4% which could lead help you lose weight over time.
Moreover, catechins present in senchas may also play a role in boosting metabolism as they have been found helpful when it comes to increasing fat oxidation during exercise, therefore making it easier for your body burn stored fat.
Promotes Heart Health
Studies have suggested that regular consumption of green teas like senchas can help promote heart health by reducing levels of bad cholesterol or LDL (low-density lipoprotein) cholesterol. It does this by preventing LDL particles from oxidizing reducing inflammation levels in blood vessels among other things.
Moreover, the catechins present in senchas also appear helpful when it comes lowering blood pressure among other cardiovascular positive effects they may have over time if consumed regularly.
May Help Prevent Cancer
The EGCG compound found in Sencha teas has been found helpful when it comes helping prevent cancerous cells growth according some studies carried out on animals. However further research will be needed before these findings can be confirmed for humans as well.
Additionally it's important to note that while research findings on green teas effect on cancer prevention are promising right now there's still much left unknown about how green teas may interact with cancerous cells in humans, it's important to consult with a medical professional if you are dealing with any health issues.
Weight Loss and Management
Sencha tea can be an effective weight loss tool when combined with a healthy diet and exercise regimen. The caffeine and catechins present in senchas work together to help boost metabolism and promote fat oxidation during exercise, providing a natural energy boost throughout the day.
Additionally, Senchas have been shown helpful when it comes appetite suppression which could also contribute towards weight loss by making it easier to stick to your dietary goals.
How to Prepare and Enjoy Sencha Tea
Choosing Quality Sencha Tea
Before preparing sencha tea, it is important to ensure that you have purchased a high-quality product. Look for organic options that have been grown in Japan, as these are likely to offer the best flavor and nutritional benefits.
The color of the leaves can also be an indicator of quality. High-quality senchas typically have vibrant green leaves with a fresh aroma that is reminiscent of seaweed or freshly cut grass.
Brewing Sencha Tea
To brew sencha tea, you will need:
A teapot or kyusu (Japanese teapot)
A strainer
Quality sencha tea leaves

Filtered water

Heat filtered water in a kettle until it reaches the desired temperature. For most senchas, aim for around 175°F (80°C).

Place the desired amount of quality sencha tea leaves into your teapot or kyusu.

Pour hot water over the leaves and let them steep for 30 seconds to one minute depending on your preference.

Serve the brewed tea into cups through a strainer lined with paper filters if needed.
Serving Suggestions
Senchas can be enjoyed both hot and cold depending on personal preference.
For those looking for something refreshing during warm weather months brewing up some cold-brewed Senchas can be an excellent choice:
1) Add loose leaf or bagged quality Senchas into room temperature filtered water
2) Let steep overnight in fridge
3) Strain out any loose bits from infusion before serving over ice
If you're looking for something more traditional however, then try drinking your hot brewed teas plain without adding anything extra like honey or lactose-free milk alternatives as this could change its natural flavor profile which is unique already.
Senchas taste great both alone but they can also pair well with light snacks like crackers, nuts & seeds, fruits, and some types of cheese.
Where to Find High-Quality Sencha Tea
Sencha tea is becoming increasingly popular around the world, and many specialty tea shops and online retailers now offer a wide range of options. However, not all senchas are created equal, and it can be difficult to know where to find high-quality products that offer the best flavor and nutritional benefits.
Specialty Tea Shops
Specialty tea shops are often a great place to start when looking for high-quality sencha teas. These stores typically have knowledgeable staff who can help you select the best products based on your preferences.
Some of the benefits of shopping at specialty tea shops include:
Wide selection: Specialty tea shops often carry a wide range of senchas from different regions in Japan.
Expert advice: Staff members are usually well-trained in the art of preparing and serving teas.
Tasting opportunities: Many specialty tea shops allow customers to sample different types of teas before making a purchase.
Japanese Grocery Stores
If you live near a Japanese grocery store, this can also be an excellent place to find quality sencha teas. These stores often carry authentic Japanese products that may be difficult to find elsewhere.
Benefits include:
Freshness: Sourced directly from Japan which means fresher products
Authenticity : They tend selling more traditional Japanese brands
Cost-effective option : Some grocery stores offer competitive prices compared with online alternatives
Online Retailers
Online retailers like Amazon or Etsy provide an opportunity for those who don't live near specialty stores or cannot visit one due various reasons like living remotely or social distancing measures currently enforced on physical businesses.
When shopping for quality Senchas online look out for :
1) Product Reviews : Read reviews left by previous customers on any given product page before making your purchase decision.
2) Brand reputation : Look out for reputable brands with good track records in producing quality Senchas over time
3) Packaging & Storage conditions : A good seller will take care in packaging and storing their teas properly to ensure it arrives at your doorstep in the best possible condition.## FAQs
What is sencha tea?
Sencha tea is a type of green tea that is native to Japan. It is made from the leaves of the Camellia sinensis plant, which are steamed and dried to prevent oxidation. Sencha tea has a unique flavor that is both sweet and slightly bitter, with a fresh, grassy aroma. It is known for its high levels of antioxidants and beneficial plant compounds, which make it a popular health drink.
What are the benefits of drinking sencha tea?
Sencha tea is packed with antioxidants, which help to protect cells from damage and can lower the risk of chronic diseases such as cancer, heart disease, and diabetes. It also contains compounds that can boost the immune system, improve brain function, and lower the risk of inflammation. Additionally, sencha tea has been shown to support healthy skin, promote weight loss, and improve oral health.
How do you prepare sencha tea?
To prepare sencha tea, you will need loose leaf tea leaves and hot water. First, heat a cup of water to around 80°C (176°F). Next, add a small amount of the loose leaf tea to a teapot or infuser. Pour the hot water over the tea, and allow it to steep for around 1-2 minutes. Be careful not to over steep the tea, as this can cause it to become bitter. Once the tea has steeped, remove the leaves and enjoy.
Is sencha tea safe for everyone to drink?
While sencha tea is generally considered safe, it may not be suitable for everyone. It contains caffeine, which can cause side effects such as restlessness, anxiety, and sleep disturbances in some people. It may also interact with certain medications, such as blood thinners or stimulants. Pregnant or breastfeeding women should consult their doctor before drinking sencha tea, as the effects on infants are not yet known. As with all food and beverages, it is important to consume sencha tea in moderation and to listen to your body's reactions.