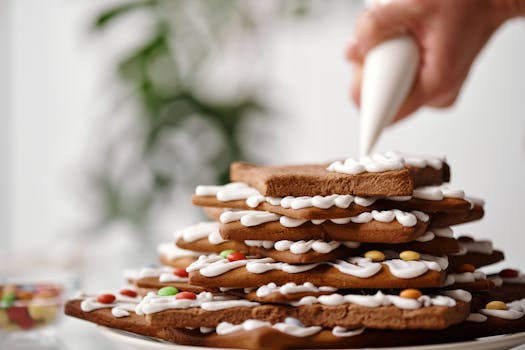 Cake decorating is an incredibly fun and rewarding hobby that can also become a lucrative business venture if pursued with passion and dedication. Whether you wish to create beautifully designed cakes for your loved ones or want to build a reputation as a skilled cake decorator, learning the basics is a crucial first step. While it may seem intimidating at first, with practice and patience, anyone can improve their cake decorating skills and create stunning masterpieces. This article will guide you through the essential steps to get started with cake decorating, covering everything from choosing the right tools to mastering basic decorating techniques. So, if you're eager to unleash your creativity and embark on a delicious journey, keep on reading and discover how to start cake decorating like a pro!
Understanding the Basics: Essential Tools and Ingredients
If you're looking to start cake decorating, it's essential to have a good understanding of the tools and ingredients required. In this section, we'll go over everything you need to get started.
Necessary Tools
Mixing Bowls and Measuring Cups
The first thing you need is mixing bowls and measuring cups. You'll need a variety of sizes for different recipes. Glass or stainless steel mixing bowls are great choices since they are easy to clean and won't absorb flavors from previous recipes.
Spatulas
A spatula is another essential tool for cake decorating since it's used for spreading frosting, smoothing batter, or even scraping the sides of a bowl. A straight spatula is ideal for frosting cakes while an offset spatula makes it easier to reach into tight spaces.
Piping Tips and Bags
Piping bags are an absolute must-have when it comes to cake decorating. They allow you to create intricate designs on your cakes with ease. Look for durable piping tips that will last you a long time.
Turntable
A turntable makes cake decorating much easier by allowing you to spin your cake as needed without having to move around too much in your workspace.
Essential Ingredients
Flour
Flour is one of the key ingredients in any baking recipe, including cakes. All-purpose flour works well in most cases but certain recipes may require specialized flour like pastry flour or bread flour.
Sugar
Sugar provides sweetness in cakes; granulated sugar can be used but brown sugar gives baked goods a richer flavor profile.
Butter
Butter gives cakes their richness; unsalted butter is preferred so that salt levels can be controlled during baking
Eggs
Eggs provide structure when baking; large eggs are standard size
Additional Ingredients
Additional ingredients such as milk, vanilla extract or lemon zest can enhance flavor profiles while other stabilizers like baking powder and baking soda can ensure that your cake rises properly.
Choosing Your Cake Decorating Style: From Classic to Modern
Choosing a cake decorating style can be overwhelming, especially for beginners. However, finding a style that speaks to you will help you develop your skills and create cakes that reflect your unique personality and tastes. In this section, we'll go over some popular cake decorating styles to consider.
To start cake decorating, it is essential to have a good understanding of tools and ingredients, choose a decorating style that speaks to you, stay updated on trends and techniques through social media, classes, and experience, and turn your passion into a career by creating a business plan, establishing a brand, and marketing your products effectively. With time, practice, and dedication, anyone can improve their skills and create beautiful and delicious masterpieces to be proud of.
Classic Style
Buttercream
The classic buttercream frosting is a simple and versatile option for decorating cakes. It can be used in various ways like piping or spreading it onto the cake with a spatula.
Fondant
Fondant is commonly used in classic cake designs; it's pliable, easy-to-shape dough gives an elegant finish when covering cakes.
Rustic Style
Naked Cakes
Naked cakes are increasingly popular; they feature layers of sponge with little or no frosting between them giving them an unfinished look.
Drip Cakes
Drip cakes are another rustic option; they're covered in frosting which drips down the sides creating an artsy look
Modern Style
Geometric Shapes
Geometric shapes are having their moment on social media platforms like Instagram and Pinterest lately. They consist of sharp angles and straight lines which create contrast against circular shapes found on the traditional cake.
Hand-painted Designs
Hand-painted designs offer personalization to your creations since you can paint any design onto the frosted surface with edible paints
Themed Styles
Floral Designs
Floral designs add beauty to any occasion; they may include fresh flowers as well as those made from fondant or gum paste
Cartoon Characters
Cartoon characters add fun elements into children's parties where themes revolve around their favorite characters
Getting Inspired: Exploring Cake Decorating Trends and Themes
Staying up-to-date with cake decorating trends is essential for any beginner to stay relevant in the industry. There are countless themes, designs, and techniques to explore. In this section, we'll take a closer look at a few trends and themes that have gained popularity.
Cake decorating is a fun hobby that can turn into a successful business with dedication. Learning the basic tools and ingredients is crucial to getting started. Choosing a decorating style should reflect one's personality and interests. Keeping up with trends and themes on social media can help inspire new designs. Mastering techniques takes practice, but investing in quality tools and attending classes can help. To turn cake decorating into a career, creating a business plan, establishing a brand, and marketing effectively are important steps. Networking and customer feedback can help maintain success.
Seasonal Themes
Spring
In spring, floral designs are popular; using pastel shades of pink or yellow can enhance the design's beauty.
Summer
Summer revolves around bright colors; beach-themed decorations like palm trees or flip flops add playful elements.
Fall
Fall is associated with warm colors like orange or brown; leaf patterns on cakes evoke crisp autumn air.
Winter
Winter revolves around cooler hues such as blue or white but festive holiday elements such as snowflakes add a touch of magic.
Modern Trends
Geode Cakes
Geode cakes feature an edible geode shape made from rock candy crystals within the cake which adds an element of surprise when sliced open.
Floral Designs
Buttercream Flowers
Buttercream flowers offer a simple way to incorporate florals into your design using frosting tips to create petals for roses and other blooms
Themed Designs
Disney-inspired Cakes
Disney fans love incorporating their favorite characters into their cakes making them ideal for children's parties
Keeping Up To Date With Trends And Themes
Social media platforms like Instagram and Pinterest are great sources of inspiration when it comes to exploring new designs, techniques, and styles in cake decorating. Following famous bakers who share their creations online can give one insight on what's trending recently while staying true to personal style preferences for cake decorating is equally important since it sets you apart from others in the industry. Additionally exploring recipe books, attending cake decorating classes or seeking advice from more experienced bakers are other great ways to keep up with the latest trends and themes.
Cake decorating requires a good understanding of the essential tools and ingredients, and choosing a decorating style that reflects your personality and tastes can help develop your skills. Keeping up-to-date with the latest trends and themes in the industry is also necessary to stay relevant. Mastering buttercream, fondant, and other techniques takes time and practice, and turning your hobby into a successful business requires a well-defined business plan, establishing a brand, and marketing and sales strategies. Attending local events, networking, investing in new skills, and seeking customer feedback are also useful tips for maintaining success.
Learning the Techniques: Mastering Buttercream, Fondant, and More
To become an expert cake decorator, you need to learn various techniques that will make your cakes look professional and polished. In this section, we'll go over some of the essential techniques to master.
Cake decorating is a fun and rewarding hobby that can turn into a lucrative business with dedication and practice. Understanding essential tools and ingredients, choosing your style, staying up-to-date with trends and themes, mastering techniques and building your business are significant steps to start creating stunning and professional-looking cakes. Invest in quality tools, attend hands-on classes, experiment, network with professionals and use customer feedback constructively to grow and maintain success.