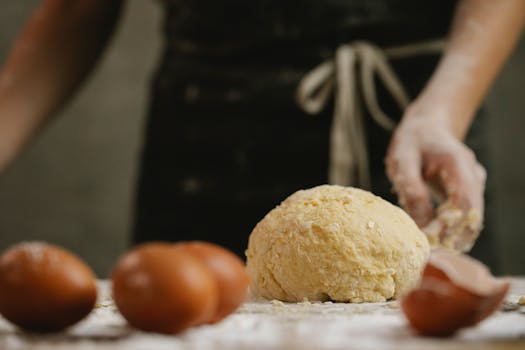 Making a ball cake can be a fun and creative way to spice up your baking skills. Whether you want to make a soccer ball or a basketball cake, the process is relatively simple and easy for both beginners and experienced bakers. To get started, you will need a few essential baking tools, such as a round cake pan and a few basic ingredients, including flour, sugar, eggs, and butter. The key to making a ball cake is getting the round shape and texture just right, so it looks like a real ball. From there, you can use your creativity to decorate the cake with icing, fondant, and other edible decorations to make it look like the real thing. With a little patience, practice, and attention to detail, you can make a delicious and impressive ball cake that will wow your guests at your next gathering or celebration. So, let's dive into the step-by-step guide for making a perfect ball cake.
Understanding the Ingredients Needed for Ball Cake
If you're looking to make a delicious ball cake, it's essential to understand the ingredients that go into it. From the flour to the sugar, each ingredient plays an important role in creating a moist and flavorful cake. In this section, we will explore the key ingredients needed for making ball cake.
Flour
Flour is undoubtedly one of the most crucial ingredients in making any type of cake, including ball cakes. It provides structure by binding all other ingredients together and helps give your dessert its shape. When choosing flour for ball cakes, it's best to go for all-purpose flour as it provides more structure than other types of flour.
Sugar
Sugar is another vital ingredient that adds sweetness and flavor to your ball cake. You can use either granulated or caster sugar depending on what you have available or what you prefer. Keep in mind; if you use too much sugar, your cake will be overly sweet and might not hold its shape well.
Baking Powder
Baking powder helps leaven your batter by releasing carbon dioxide gas when mixed with liquids such as milk or water. This gas expands during baking giving your ball cakes their light and fluffy texture.
Eggs
Eggs are an essential ingredient when making any type of cake because they help bind all other components together while also adding moisture and richness to your dessert. For best results when making ball cakes, use room temperature eggs as they blend better with other ingredients than cold eggs would.
Milk
Milk adds moisture to your batter while also helping create a smooth consistency that makes mixing easier.
You can opt for either whole milk or skimmed milk depending on how rich you want your dessert.
Butter
Butter adds flavor and richness to baked products like cakes without being too overpowering while adding moisture at the same time.
It's essential always using unsalted butter so that you can control how much salt is in your cake.
Vanilla Extract
Vanilla extract adds a unique flavor to ball cakes, giving them a delicious aroma. It's an optional ingredient, but it adds a warm and inviting scent to the cake.
Salt
Salt enhances the overall flavor of any baked product by adding balance to other ingredients. It's essential to add just enough salt so that it doesn't overpower the other flavors in your ball cake.
Tools and Equipment Needed for Making Ball Cake
Apart from the ingredients, you'll need specific tools and equipment to ensure that your ball cake comes out perfectly. In this section, we will explore the essential tools needed when making ball cakes.
Making ball cakes is an easy and creative way to add variety to your baking. To make the perfect ball cake, use quality ingredients, measuring them accurately, and don't overmix the batter. Ensure your oven is preheated and keep an eye on your baking time and temperature. Experiment with different flavors like chocolate chips or lemon zest and let the baked balls cool before removing them from the muffin tin. With practice and attention to detail, you can make delicious and impressive ball cakes that will impress your guests.
Mixing Bowls
Mixing bowls are a must-have tool when making ball cakes. You'll need at least two mixing bowls; one for dry ingredients and another for wet ingredients. It's best to use stainless steel or glass mixing bowls as they are easy to clean and don't retain any grease or odors.
Measuring Cups
Measuring cups allow you to measure precise amounts of liquid such as milk or oil. When measuring dry ingredients like flour, it's best to use a scale instead of measuring cups since it provides more accurate measurements.
Measuring Spoons
Measuring spoons come in handy when measuring small amounts of dry ingredients such as baking powder or salt. They help prevent over-adding or under-adding an ingredient which can affect the overall taste of your cake.
Electric Mixer
An electric mixer is useful in beating eggs with sugar until light and fluffy while also helping blend all other components together smoothly.
It saves time compared to hand whisking where you'll end up spending lots of energy trying to achieve similar results manually.
Rubber Spatula
A rubber spatula is perfect for scraping down the sides of your mixing bowl, ensuring that all the batter mixes evenly without leaving any lumps behind.
Muffin Tins
Muffin tins help create uniform portions while shaping the balls before baking.
You can opt for metal muffin tins coated with non-stick material so that your balls don't stick after baking.
Parchment Paper
Parchment paper lines muffin tins preventing sticking by creating a barrier between your muffin tin surface and batter.
The parchment paper makes cleaning easier too since it prevents any residue from sticking onto the muffin tin.
Ice Cream Scoop
An ice cream scoop comes in handy when shaping your ball cakes. With an ice cream scoop, you'll be able to create uniform portions that are easier to shape before baking.
Oven
An oven is a must-have for baking ball cakes. Ensure that your oven is preheated to the right temperature before placing your balls inside.
Cooling Rack
Once your ball cakes are done baking, it's essential to let them cool down on a cooling rack. This helps prevent the balls from getting soggy while also ensuring they cool down evenly.
Steps on How to Make Basic Ball Cake
Making ball cake is a fun and easy dessert that anyone can make. In this section, we will provide you with step-by-step instructions on how to make basic ball cake.
Making a ball cake is an easy and enjoyable experience, regardless of your baking skills. Ensure that all your ingredients are at room temperature, preheat your oven, and measure your ingredients correctly for best results. Don't be afraid to experiment with different flavors and techniques to find what works best for you. Remember: Practice makes perfect, so keep baking those ball cakes!
Step 1: Preheat the Oven
Preheat your oven to 350 degrees Fahrenheit (180 degrees Celsius) before you start mixing the ingredients. This ensures that your oven is at the right temperature when it's time to bake.
Step 2: Mix Dry Ingredients
In a mixing bowl, mix together flour, sugar, baking powder, and salt. Use measuring cups and spoons for accurate measurements of each ingredient.
Step 3: Mix Wet Ingredients
In another mixing bowl or stand mixer bowl beat eggs until they're light in color.
Add melted butter to beaten eggs while still whisking.
Then add milk and vanilla extract while still whisking until all ingredients are well blended.
Step 4: Combine Wet and Dry Ingredients
Slowly fold in dry ingredients mixture into wet mixture using a rubber spatula.
It's crucial not overmix the batter since it might cause your cake balls not holding their shape when baked.
Step 5: Shape Your Balls
Using an ice cream scoop or spoon create uniform portions of batter then roll them between your palms into perfect balls shape.
Step 6: Place Balls in Muffin Tin
Line muffin tins with parchment paper then place each ball inside one muffin cup. Ensure there's enough space between each ball so that they don't stick together during baking.
Step 7 : Bake Your Balls
Bake for approximately twenty minutes or until golden brown on top.
Use an oven thermometer when checking if they're ready since different ovens' temperatures may vary slightly.
Step 8 : Cool Your Balls
Remove tray from the oven once ready .
Allow cooling down by placing them onto a cooling rack for at least 10 minutes before serving.
Step 9 : Serve Your Balls
Serve your ball cakes while still warm or cold.
You can store any leftovers in an airtight container for up to three days.
Variations and Flavors for Ball Cake
While basic ball cake is delicious on its own, you can add different flavors and variations to make it even more exciting. In this section, we will explore some of the most popular flavors and variations for ball cake.
Making ball cakes can be an exciting way to showcase your baking skills, and the process is simple and easy regardless of your experience levels. The key to perfecting your ball cake is to pay attention to detail and get the shape and texture just right. Some essential tools you will need include mixing bowls, measuring cups and spoons, an electric mixer, and an oven. Experiment with different flavors and use quality ingredients for top-quality results. Remember to preheat your oven, allow your balls to cool before removing them from their muffin tin, and store them correctly. Keep practicing, trying new techniques, and have fun.